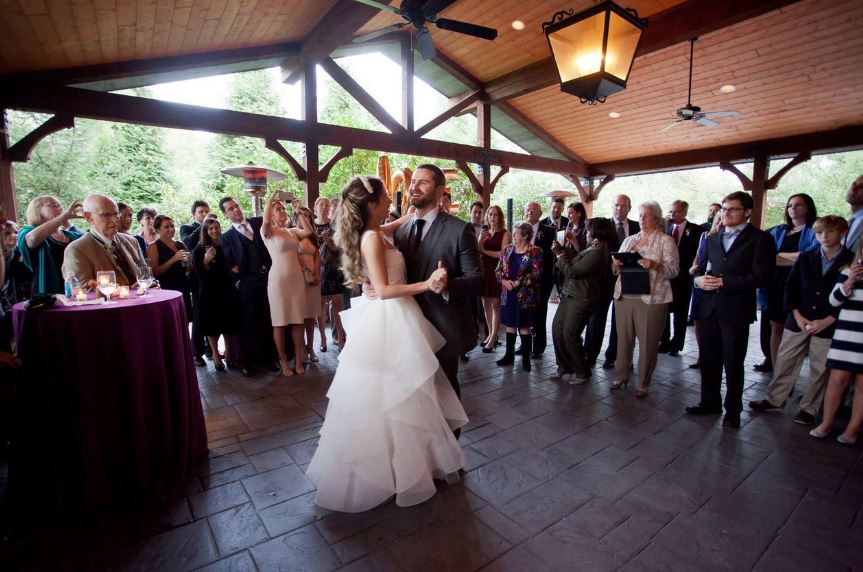 So, the wedding plans are in motion, you have decided to get married and the big day is on the horizon, but you need to finalise the first dance song. "The dreaded first dance song" some couples might already have one in mind IE: You both met when a particular song was playing in the background, good for you, however, you might be a couple who simply don't have a song. The first dance for every bride and groom is an iconic moment. It is a very different experience for every couple to pick one, some may find it easier than others and hey presto you're done! That is not the case for everyone. It isn't the easiest of tasks to pick the perfect one that you both will love. There are so many different song choices out there and you want and need it to be right! Whether you choose something romantic, or you may go for a tune that you can actually dance to, choosing the right song really is essential. Fear not, it is all about both of you enjoying yourselves and having the time of your lives! After all, it is your wedding! Here are some helpful tips to help you choose your first dance song.
1.  Involve each other 
Choosing the first song should be chosen together. You both need to be happy with it and need to be able to dance to it also. Take some time to listen to some of your favourite tracks and choose it that way. It would be great if you both had similar tastes in music as it would make picking the song so much easier.
2.  Ask your band or DJ for advice
Your Wedding band or DJ would be a great resource for first dance song suggestions as they more than likely have heard hundreds even thousands of songs. If you are finding it difficult to choose one, simply ask them for advice and they will undoubtedly be able to help you.
3.  The Hopeless Romantics 
The classic and timeless first dance song. The lyrics of a song are just as important as the melody and it should be romantic, poetic, and emotional. Popular song choices include "say you won't let go" by James Arthur, "all of me" by John Legend, and "you are so beautiful" by Joe Cocker and of course many choices from Ed Sheeran.
4.  Ensure the song isn't too long 
It is an expected tradition at most weddings so the first dance song should be no more than 2/3 minutes long. It shouldn't drag on and you should enjoy it while it lasts.
5.  It should be practical
Can your band sing the song that you have chosen? Although most wedding bands will learn your choice of first dance, it is also important to take into account that not all songs will suit the band to reproduce. For example, if you choose a song with a female singer and it has a big production, then a four piece male band might not be suitable to reproduce it.
Ask them can they learn the lyrics for you if this is your wish. If they can't, then the band can always play the recorded original over their PA system. Don't be disheartened, many musicians and singers would be honoured to sing your special song for you and this makes it even more personal for your wedding day.
6.  Can you dance to it?
You may be the type of couple who are full of confidence on the dancefloor and have a really good boogie, but not everyone is like that. You should plan a routine or even get some dance lessons if they are needed. The song should be a little bit upbeat something you can possibly move to and wow all your guests. If you choose a traditional slow song this is good too. Favourite selections could be "the time of my life" from dirty dancing, "truly madly deeply" by Savage Garden, "perfect" by Ed Sheeran, and "thinking out loud" by Ed Sheeran.
7.  The Smooth Operators 
You may be very affectionate people even in public and you are not afraid to strut your stuff. You enjoy having all eyes on you. You may want to choose a sexy song that you are able to move and groove to. Some songs include "she keeps me warm" by Mary Lambert, "a thousand years" by Christina Perri, and "at last" by Etta James.

Final thoughts on the first song 
You have walked down the aisle, said your vows "till death do us part" and you intend to enjoy your special day to the fullest. It is entirely OK to not be in love with the song, it doesn't have to be the perfect one, once you are both happy that's all the matters. It is your wedding day after all!